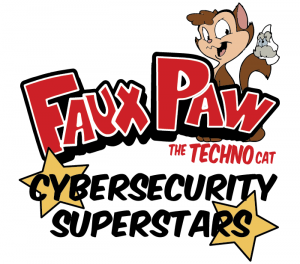 Parents, teachers, and caring adults can all agree that youth need to learn the skills to safely explore the digital world. In many ways, the Internet is like a big city with great places to go. It can be a tremendous asset, as long as the user has the skills needed to navigate it carefully.
Additionally, people with cybersecurity jobs–aka "Cybersecurity Superstars"–are needed to help keep the Internet safe for everyone. And once students learn how to navigate the Internet safely, they can hone their skills to get a job as a Cybersecurity Superstar!
There is an ever-growing need for people to fill cybersecurity positions, so it's never too early to start learning about what these jobs entail. That is why iKeepSafe has created an exciting new curriculum based on its beloved Faux Paw the Techno Cat series. Over the years, this series has proven to be an age appropriate way to teach children about important concepts relating to digital safety.  
iKeepSafe's Cybersecurity Superstars Curriculum consists of four lesson plans that use the Faux Paw stories to help students in grades 1-4 learn all about the skills needed for Internet safety, privacy, ethics, and introduces cybersecurity jobs that help keep people safe online. 
By combining concepts like safe downloading and uploading, recognizing threats to privacy, and making good choices while on the internet with cybersecurity jobs that use those skills, young students are introduced to the cybersecurity career field in a way that is relatable and accessible to their age group.
The curriculum is available for free on our website. Download it today!