Faux Paw's Cybersecurity Superstars Curriculum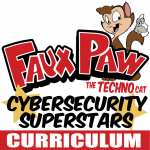 The Internet is like a big city with great places to go, but it is essential to navigate it carefully. Students need to learn the skills to safely explore the digital world, but it also takes helpers (people with cybersecurity jobs) or "Cybersecurity Superstars" to help keep the Internet safe for everyone. Once a student learns how to navigate the internet safely, those skills could someday use them to get a job as a Cybersecurity Superstar!
Faux Paw the Techno Cat's Cybersecurity Superstars Curriculum consists of four lesson plans designed to help students in grades 1-4 learn all about the skills needed for Internet safety, privacy, ethics, and introduces cybersecurity jobs that help keep people safe online. By combining concepts like safe downloading and uploading, recognizing threats to privacy, and making good choices while on the internet with cybersecurity jobs that use those skills, young students are introduced to the cybersecurity career field in a way that is relatable and accessible to their age group.
Lesson Objectives: 
 Lesson 1: Adventures on the Internet
Teach students how and why to keep their personal information safe online.
Explain to students how they can stay safe from Internet strangers, and why it is important. 
Help students develop an understanding of what is private and public information.Encourage students to tell their parents about what they see online. 
 Lesson 2: Faux Paw's The Dangerous Download
Explain how and why people use computers and the Internet for file sharing or downloading.
Raise questions about appropriate use of the Internet.
Build understanding about fair and responsible use of the Internet.
Begin to consider the importance of cyber ethics and respect for intellectual property and copyright.
Encourage students to use their feelings of common sense, fairness and honesty to make good decisions online.
 Lesson 3: Faux Paw's The Unfortunate Upload
Teach students the meaning and importance of "digital ethics."
Clarify what things are and are not appropriate to upload online.
Discuss how to create a positive digital reputation.
 Lesson 4: Faux Paw's Cybersecurity Jobs
Explain cybersecurity career opportunities in an age appropriate way.
Identify how Faux Paw and the other characters navigate online safety and the digital world. 
Encourage students to consider cybersecurity jobs in their future. 
Each lesson coincides with one of the Faux Paw the Techno Cat books, and contains objectives, vocabulary, talking points, in-class and take home activities. The lesson plans are combined into a single, all-inclusive, downloadable PDF including all instructions and activity sheets. The final lesson culminates with an online Kahoot quiz to check understanding.
Download the Curriculum
Download the lesson plans today by filling out the short form below:
Want more Faux Paw the Techno Cat?
FIND ALL SIX OF THE FAUX PAW THE TECHNO CAT BOOKS & VIDEOS HERE.