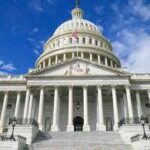 The Biden-Harris Administration invited iKeepSafe and other education, government, and industry stakeholders to champion the new National Cyber Workforce and Education Strategy (NCWES), a first-of-its-kind comprehensive approach aimed at addressing both immediate and long-term cyber workforce needs. NCWES has the specific goal of empowering Americans to participate in the digital ecosystem and to begin filling the vast number of vacant cyber jobs. 
Amber Lindsay, President of iKeepSafe, attended the launch of the NCWES, where in support of the strategy, iKeepSafe committed to offering free online training for educators each month on the iKeepSafe website entitled Data Privacy in Education – an iKeepSafe Educator Training Course. This training provides educators at all levels (teachers, administration, and support staff) with the necessary information to understand their role in helping to keep students and student data safe in an increasingly online learning environment. 
In addition to the Data Privacy in Education Course for Educators, iKeepSafe offers Faux Paw Cybersecurity Superstars Curriculum, a free resource to teach youth about cybersecurity jobs and foster discussions between adults and K-3rd graders about the exciting opportunities available in these fields. We aim to ignite young students' curiosity about the opportunities available in cybersecurity jobs. 
iKeepSafe also hosts the annual NICE K12 Cybersecurity Education Conference, gathering dynamic and innovative cybersecurity education leaders and professionals from across the US for a highly collaborative exploration to promote the discovery of cybersecurity careers. 
As a respected leader in the digital education space for nearly two decades, iKeepSafe's evergreen resources are tried, tested, and well equipped to bolster the efforts of the NCWES. We share the common goal of investing in teachers, parents, and youth to prepare them to thrive in the digital economy. Filling the hundreds of thousands of cyber job vacancies across our nation is a national security imperative.
To learn more about the guiding imperatives and approach outlined in the NCWES, please read the official fact sheet released by the White House, or read the full strategy here.