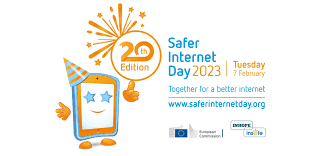 Safer Internet Day (SID) is an annual event celebrated globally to raise awareness about online safety and to promote the responsible use of digital technology. This year, SID fell on Tuesday, February 7th. iKeepSafe was proud to celebrate with the rest of the world, and promote best practices that make the internet a safer place.
This year's theme for Safer Internet Day was "Together for a Better Internet." All of us — individuals, organizations, and governments — play a role in creating a safe place online, and we all need to do our part to develop strategies for promoting digital literacy, providing support for victims of online abuse, and advocating for better online protections.
So, what can we do as individuals to make the internet a safer place? Here are some tips to keep in mind:
Use strong passwords: Make sure your passwords are difficult to guess and include a combination of letters, numbers, and symbols.
Think before you click: Be cautious of emails or messages that ask for personal information or require you to click on a link. Always verify the source before taking any action.
Protect your privacy: Check your privacy settings on social media platforms and avoid sharing personal information with strangers online.
Speak up against cyberbullying: If you witness or experience cyberbullying, report it to the relevant authorities and offer support to the victim.
Keep your software updated: Install the latest updates for your devices and software to ensure you have the most up-to-date security features.
Safer Internet Day 2023 was an important opportunity to promote online safety and raise awareness about the potential risks of using digital technology. By taking steps to protect our personal information, promoting responsible online behavior, and advocating for better online protections, we can all help to make the internet a safer and more secure place. For additional resources to learn more about internet safety, check out our iKeepSafe Family Resources.