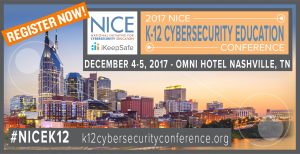 Join us at the NICE K-12 Cybersecurity Education Conference 
The NICE K-12 Cybersecurity Education Conference, will take place this year in Nashville, Tennessee on December 4-5. The conference is part of an annual series, and is co-hosted by iKeepSafe.
About Cybersecurity Education:
Cybersecurity is one of the leading creators of jobs and opportunity for all economic sectors, with large and growing demand for cybersecurity positions in both the public and private sector. The NICE K-12 Cybersecurity Education Conference will expand a national effort to address the
challenges and opportunities of cybersecurity education, training, and workforce needs in the US. This two day event will focus on strategies to inspire cybersecurity career awareness, stimulate career exploration, and enable cybersecurity career preparedness for today's youth.
About the Conference:
This year's NICE K-12 Cybersecurity Education Conference will feature timely and thought-provoking presentations that highlight effective collaborations, bold experiments and innovations, and other potentially game-changing methods in support of bringing together cybersecurity workforce, training, and educational leaders from academia, business, and government for two days of focused hands-on workshop and discussion in support of the NICE strategic goals: accelerating learning and skills development, nurturing a diverse learning community, and guiding career development and workforce planning.
The conference will feature five tracks:
Increasing cybersecurity career awareness
Infusing cybersecurity across the education portfolio
Integrating innovative educational approaches
Designing academic and career pathways
Promoting cyber awareness
Seating is limited. Register today to save your place! Travel information, agenda, speakers, and registration can be found at the event website here.
To say up on conference info, follow #NICEK12 and RSVP on the facebook event!
Sponsorship and exhibitor opportunities are available. Contact amber@ikeepsafe.org for more information.
Download the full press release here.