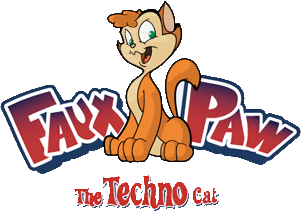 Parents and teachers, meet Faux Paw the Techno Cat®, an adventurous six-toed cat who loves technology. iKeepSafe has published 5 books (with another one coming soon!) to teach elementary students important rules to promote the safe and healthy use of digital devices.

Through the storybook adventures of Faux Paw the Techno Cat, youth learn about:
Internet safety basics
How to handle cyber-bullying
Balancing real life with screen time
The risks and dangers of downloading
The iKeepSafe.org website reinforces the lessons taught in the books with educational materials, available for free download.

The Faux Paw curriculum is based on research from Harvard's Center on Media and Child Health and created in partnership with the iKeepSafe Global Research Team, Penn State University Department of Education, and the University of Maryland. You can download the Faux Paw books and resources here, or watch the videos via Youtube here.