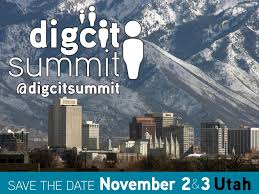 Each year, organizations, educators, industry, parents and students unite for the DigCit Summit to discuss solutions, promote best practices, and empower citizens to be the digital change. By working with youth, celebrating a shared humanity, working to do good with tech in individualized spheres, and connecting with others doing good, these leaders create a "we" mindset. This multiple stakeholders approach provides an opportunity to address the positive ways to address social media and technology use as a community.
This year, the DigCitSummit was hosted by EPIK Deliberate Digital in Provo, UT. The theme was EXPAND…
EXPAND the conversation around kids and technology.
EXPAND your network.
EXPAND our shared impact toward a more Positive DigCit culture.
Felicia Rateliff, iKeepSafe Senior Program Manager, presented on a panel discussing Parenting In a Digital Age. She highlighted key strategies that parents can implement to help their kids thrive in today's fast paced, high tech world. For example, iKeepSafe teaches parents to remember these "3 Keeps":
KEEP COMMUNICATING with your child about what they experience and share online.  Know their lingo, places they connect, and ask them when you don't understand something.  Keep lines of communication open.
KEEP CURRENT & set BOUNDARIES.  Know the technology your child uses and what it is capable of doing. Setting limits—is an essential role of parenting. It is easy for children to overshare.
KEEP CHECKING your child's internet activity including what they are sharing and with whom. Explain you care about them; that is why you monitor their tech use. This also reinforces the internet is a public forum.
Felicia also participated in several workshops throughout the conference, highlighting how iKeepSafe's Privacy Certifications are a timely and needed service for all stakeholders. To learn more about the conference and view pictures of the event, visit http://www.digcitsummit.com