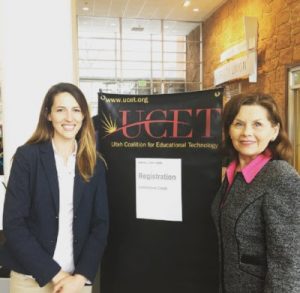 Last month, iKeepSafe Founder and Chair Jackie Leavitt was invited to present at the Utah Coalition for Educational Technology (UCET) annual conference. It is the mission of UCET to promote the cooperative development and effective use of information technology in Utah's educational institutions, and provide a forum for the exchange of information on technology for the purpose of representing their varied interests to each other and to the public.
Jackie felt honored to join over 1300 educators of every grade level and subject area. The theme for this year's conference was "YOUcet" and its focus was the human side of tech.  Presenters and break out sessions discussed how technology helps us build relationships, engage our students in collaboration, and take student innovations and ideas to the next level. Technology can do amazing things, but humans are more amazing!
Specifically, Jackie presented the Educator Training Course Data Privacy in Education – An iKeepSafe Educator Training Course. This FREE resource is available to all education stakeholders and gives you the tools you need to be aware of privacy concerns and keep students safe.
Following a thorough review of the training course, Brenda Hales who served as Utah's Deputy Superintendent to Schools, stated, "Because digital learning is so valuable, yet vulnerable to unwanted information mining, it is critical to balance selection of worthwhile software with privacy and security responsibilities. iKeepSafe has developed an outstanding training course that explains the key competencies educators must have to improve student privacy protections. This excellent material provides K12 education stakeholders the tools needed to be aware of privacy concerns and legal requirements which keep students safe. The course includes lessons, videos, video study guides, and an online end-of-course quiz.  Without hesitation, I can recommend this resource to you."
Additionally, Jackie highlighted iKeepSafe's Privacy Certification services. The certifications simplify privacy compliance for education technology vendors and make it easy for schools to identify websites, apps, data management platforms, and other technology products that follow various privacy laws governing student data. Products that carry the iKeepSafe badge provide educators and parents with assurance that the product meets iKeepSafe's standards in the areas of privacy, safety, and security.
To learn more about the Educator Training Course and iKeepSafe Privacy Certification services, please visit our website.