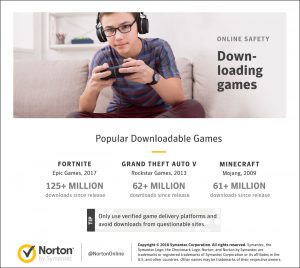 An Example of Gaming Popularity: Fortnite
Whether you're a parent, teacher, or guardian, chances are you've heard of the popular video game Fortnite. The free game has been downloaded over 125 million times since its release in September 2018. Taking the nation by storm, this Teen-rated game is suggested for teenagers 13+ but is attractive to children much younger.
From the perspective of educators, it's easy to see how this and every other trending game impacts students. From conversation to conflict, many teachers are drawing a correlation to the games their students are playing. Unfortunately, making their way into schools, gaming habits, personal rivalries, and opinionated arguments are impacting the health and privacy of students. In fact, the Australian school board at Sydney's Bondi Beach public school reports that "[there has been a] noticeable change in some behaviors, both in the classroom and on the playground, that are directly linked to Fortnite". Furthermore, the Australian Classification Board rated Fortnite M for Mature, yet individuals as young as 8 years old claim to play regularly.
Notably, the Children's Online Privacy Protection Act (COPPA) states that that if a tech product has audiences under 13 there must be age verification methods in place. Parents and educators can learn more about COPPA, as well as check see what products have earned our COPPA certification, by visiting our iKeepSafe website.
Although new games, devices, and trends pop up all the time, something parents may not realize is the effect these fads can have both in and out of the classroom. With the potential to cause health and privacy conflicts, it's more important than ever for parents to be aware.
What types of in-game content are harmful to students?
Drug References– Images of the distribution and/or use of both illegal or legal drugs such as alcohol, tobacco, etc.
Language– Inappropriate language within gameplay that could include profanity, sexual commentary, racial stereotypes, and mature content.
Provocative Themes– Games often use timely or provocative themes to attract players. Although this bullet could contain all of the above, provocative content could encourage players to engage in illegal, harmful, or potentially hazardous activity in the real world.
Sexual Content– Explicit and/or frequent depictions of sexual behavior, nudity, and even sexual-charged violence.
Violence– Gameplay that involves aggression, conflict, and death. Often designed to look realistic, violent gameplay could include physical conflict, human injury, or death accompanied by blood, dismemberment, mutilation, weapons, and suggestive violent acts. This content could encourage players to act with aggression or even physical violence in and out of the classroom.
For more information on in-game content, you can reference the Entertainment Software Rating Board (ESRB) and their ESRB Rating Guide page.
What interactive elements of gaming could affect student privacy?
Unmonitored User Interaction– Online games with user-to-user communication functions and media sharing allow gamers to interact, share, and speak with others. However, these channels are unmonitored and could expose gamers to adult language as well as inappropriate and/or potentially hazardous content. During this interaction, it's possible to accidentally or intentionally share and exchange your personally identifiable information. Remind your child to never disclose passwords, email addresses, login credentials, the names of other players, open suspicious links, or fall for free-content scams. Both cyber criminals and bullies utilize these tactics to steal in-game content, phish for information, and harass vulnerable individuals. If stolen, this information can be shared online, sold on the dark web, or used by a criminal to commit acts of identity theft.
In-Game Purchasing– The ability to purchase and download digital games and goods with real money can be hazardous. Content available for purchase can include bonus levels, skins, surprise items, music, subscriptions, season passes, and in-game currency. If a user makes a purchase or download from an untrustworthy source it's possible they could introduce malware and/or viruses. If allowed, this malicious software could spread to the host network and server, potentially accessing the device's email addresses, online accounts, or other stored data. When it comes to making purchases and downloading content, always encourage your kids to use the device's trusted app store and avoid following unknown links possibly claiming to be instructional videos offering free-content or cheating strategies.
Location Sharing– Streaming has become increasingly popular among gamers. Using a platform such as Twitch, a gamer can share their live gameplay with thousands of viewers across the Internet. However, streaming platforms, gaming consoles, and individual games could display the user's location to others. Sharing location information allows developers to highlight the current number of online players and the overall popularity of the game. However, if a cyber criminal obtains the gamer's IP address, they could target and intercept the private information being exchanged on a vulnerable home or institutional network.
5 Tips for Parents
Avoid gifting tech devices during the holiday season. If you must, gift age-appropriate content and discuss why you made the choice over a preferred alternative.
Establish screen-free rules during the Holiday season and reward successes.
Reinforce that video games are not real, violence should not be reenacted, and that gaming conversations and opinions do not belong in the classroom.
Update, monitor, and defend your devices, networks, and gaming consoles using advanced settings, parental control, firewall, and antivirus software.
Discuss the dangers of sharing, downloading, and playing Internet content.