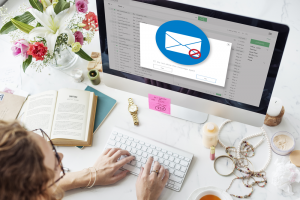 There's a pop culture stereotype about the elderly and computers, namely that the two don't mix well. Many of today's senior's were already adults in the work force when the home computer came along, meaning that they might have used technology at work with limited capacities, but many of them didn't own the earliest home computers.
Contradictory to belief, it's not seniors falling for this scam
One thing about stereotypes is they tend to be only mildly rooted in truth, yet they take on an identity of their own. The reality is nearly half of US senior own a smartphone (which is not including those who own a standard cellular phone), nearly half subscribe to broadband internet service, and about 67% say they regularly go online. The data, provided by a 2017 Pew Internet survey, is based on a very wide age demographic, considering that their survey definition of a senior citizen includes everyone ages 65 and up.
But here's a real shocker: its younger tech users who are more likely to be victimized by a tech support scam. In fact, the so-called "digital natives," meaning the generation that grew up surrounded by technology at home and in school, are more likely to fall for a tech support scam than their seniors.
Tech support scams are nothing new, but they are on the rise
According to a report by Microsoft, users under the age of 34 were more likely to fall for a tech support scam as users ages 66 and up. The Better Business Bureau's findings state that Microsoft gets about 12,000 scam reports a month involving phony tech support, and the FTC and the FBI's Internet Crime Complaint Center (IC3) received more than 40,000 complaints of this scam totaling around $21 million between January and September of this year.
Teach your teens to recognize scams as they learn new technology
No matter what age, tech users need to adopt an air of caution about clicking links or popup boxes and turning over control of their networks to a stranger. These scams will continue to steal millions from US tech users until we stop believing that companies regularly scan our computers for signs of trouble.
Start small by developing good privacy habits and learn how to get involved with Data Privacy Day coming up on January 25th, 2018.