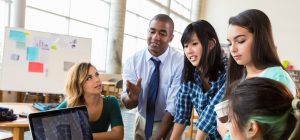 All K-12 education stakeholders — including teachers, employees, administrators, and school board members — play a part in protecting student privacy in the digital world. In an effort to support these stakeholders, iKeepSafe is launching a new educator training course next month.
Data Privacy in Education: An iKeepSafe Educator Training Course features engaging videos and content. It teaches school stakeholders about how student personal information is used and how to improve privacy protections while leveraging digital learning.
Specifically, the Training Course includes three lessons and two supplemental lessons:
Introduction to Data Privacy
How to be a Data Privacy Hero
Reviewing EdTech Products
Supplemental: Privacy and Security Training for School Board Members
Supplemental: Privacy and Security Training for Administrators
The Training Course is designed to give K12 education stakeholders the tools they need to be aware of privacy concerns and help keep students safe. In addition to its five lessons, it also includes Additional Resources, Course Assessment, and an accompanying Facilitator Guide which instructs an Administrator or Teacher Leader on how to introduce the Training Course as part of a professional development workshop.
Stay tuned for more information about how you can dowload this free resource for your school teams in the upcoming weeks!