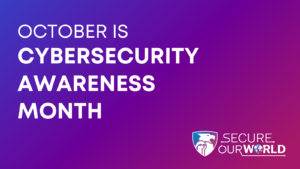 In the ever-evolving digital realm, our reliance on technology has grown immensely, encompassing everything from personal communication to business operations and critical infrastructure. With this growing dependence comes heightened cybersecurity risks, making the observance of October as Cybersecurity Awareness Month all the more significant. This annual initiative seeks to educate individuals and organizations alike about the paramount importance of cybersecurity.
iKeepSafe has many specific tactics that we use to promote cybersecurity and best practices online. Our family, educator, and vendor resources are available for free on our website, and include many valuable activities, workshops and curricula. 
For example the Be Internet Awesome curriculum that we developed in partnership with Google teaches kids the fundamentals of digital citizenship and safety so they can explore the online world with confidence. It focuses on important skills such as:
Share with care
Don't fall for fake
Secure your secrets
It's cool to be kind
When in doubt, talk it out
Additionally, we recently launched a new curriculum with AT&T that is featured on their Achievery site. The Achievery is a free digital learning platform designed to help educators, parents, and caregivers engage K12 students everywhere they learn – at home, in the community, and the classroom. Our content specifically helps students know how to be kind online, how to safely and ethically download content, and how to stay safe on the internet. 
iKeepSafe also hosts the NICE K12 Cybersecurity Education Conference each year. In its ninth year, the NICE K12 Cybersecurity Education Conference has gathered the most dynamic and innovative cybersecurity education leaders and professionals from across the US for an intensive, highly collaborative exploration to promote the discovery of cybersecurity careers and multiple pathways, identify methods to transform learning, and much more. NICE K12 is THE national conference for K12 cybersecurity educators and supporters. This year's event will be held on December 4-5, 2023 in Phoenix, Arizona.
We also promote best practices on our blog, in our newsletter, and on our social media platforms. To stay connected with us, and to receive these valuable tips, be sure to subscribe to our various channels. 
Most importantly, take some time to evaluate what individual steps you can take this October to be proactive in safeguarding your digital life. By educating ourselves about cyber threats and practicing safe online behaviors, we not only protect our own interests but also contribute to a safer online environment for everyone. Cybersecurity is a shared responsibility, and individual actions collectively form a formidable defense against cybercriminals. Whether it's adopting strong password practices, enabling two-factor authentication, or staying informed about the latest threats, each small effort adds up to strengthen the overall cybersecurity posture, making the internet a safer place for individuals, businesses, and communities alike.