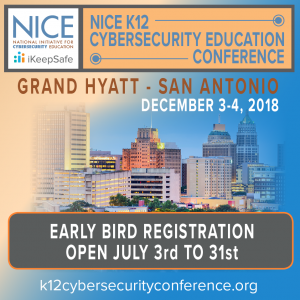 As of today, July 3rd, you can register for what is sure to be a SOLD-OUT event.  The 2018 NICE K12 Cybersecurity Education Conference, taking place December 3-4, 2018 at the Grand Hyatt in San Antonio, Texas, will be jam-packed with speakers, panels, break-out sessions, and hands-on drop-in activities covering five tracks:
     Increasing Cybersecurity Career Awareness
     Infusing Cybersecurity Across the Educational Portfolio
     Integrating Innovative Cybersecurity Educational Approaches
     Designing Cybersecurity Academic & Career Pathways
     Promoting Cyber Awareness
#NICEK12 2018 features several transformative keynotes including Kyla Guru, high school student entrepreneur and founder/CEO of Bits N' Bytes Cybersecurity Education (BNBCE). Her nonprofit sustains 20+ national partnerships with school districts, associations like ISACA and IBM, and education platforms including Discovery Ed and TEDed, in order to increase awareness and youth competency in cybersecurity. She is a catalyst for global change, being a 2018 Global Teen Leader, NCWIT AiC National Winner, Stanford University #include fellow, and TEDxChicago speaker.
Join your fellow educators, administrators, school counselors, students and cybersecurity industry experts at what is sure to be an amazing event. See you in San Antonio at #NICEK12!!
Click here to register. For registration questions, sponsorship and exhibitor inquiries contact conference@ikeepsafe.org